NoiseMeters Surrey Showroom
You are welcome to visit our shop and showroom in Ockley, Surrey.
Try out the range of sound level meters and noise dosemeters*
Get some free training on using the equipment*
Collect items that you have bought or hired**
Drop equipment off for calibration
* Please call first on 0845 680 0312 to check the items are in stock.
** Please call first to check that your order is ready for collection.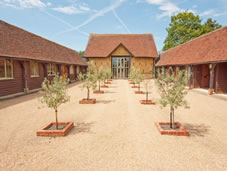 Jayes Park
Choosing the correct sound level meter or noise dosemeter can be difficult, especially if you have not been involved in noise measurement before. We are happy to discuss your application and let you spend some time looking at the sound level meters we have available.
Finding NoiseMeters Surrey Office and Showroom
You can find us at:
7 Jayes Park
Ockley
Surrey
RH5 5RR
By Car
The post code RH5 5RR should bring you straight here by satellite navigation. Free parking is available. Let us know you are coming as the car park has a barrier.
Please call on 0845 680 0312 before you come so we can ensure somebody is there to meet you with the kettle on, and that the equipment you are interested in is available. The normal office hours are 9 am to 5 pm.
In the meantime... please browse our online shop, where you will find lots of information about our range of sound level meters and noise dosemeters.