Hire of Sound Level Meter for Environmental Noise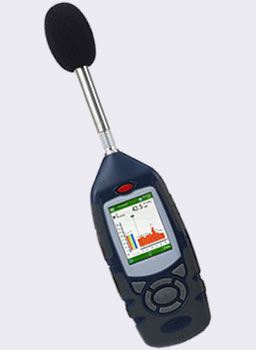 The CEL633C1 is available for hire over a period of one week or longer. This is a top specification meter that is ideal for environmental noise surveys and exceeds the requirements for occupational noise measurement too.
Environmental Noise Surveys
BS4142 Mixed Residential and Industrial Noise
Detailed Noise at Work Assessments
Meter features:
Class 1 for Accurate and Repeatable Noise Measurement
Data Logging with Time History and Environmental Parameters
Automatic Timers
Audio recording with automatic or manual triggering
Hire Kit Includes:
Sound Level Meter and Calibrator
Software and download cable
Calibration Certificates
Carrying Case
Availability and Booking
Start Date

Hire Period

Hire Price Includes
Delivery to your premises
Collection

At the end of the hire period we will contact you first and then arrange for a courier to come and collect the equipment.

when finished
Shipping outside the hire period

If you book the equipment for seven days then you have it on site for seven full days.

If your hire starts on a Monday then we will ship the equipment to arrive on the Friday before the weekend.

Technical support and advice
Transit insurance

We cover any loss or damage to the hire equipment while we ship it to your premises and the same on return if we arrange the collection.
Info
Applications
Using It
Specifications
Overview
The CEL633C1 is the top of the range meter and is fitted with all options, such as octave and 1/3 octave band filters, detailed data logging with time history plots, and environmental noise measurement parameters.
This meter also has the Audio Recording feature fitted, making the positive identification of a noise source much easier - you listen to it!
Standards
It is essential that a sound level meter meets the correct standards for the measurements you intend to make. Most regulations will indicate the type and grade of meter to use. As the CEL633C1 is a Class 1 (the most accurate version) to IEC 61672 and Type 1 to ANSI S1.43, it is an Integrating meter and fitted with 1/3 octave band filters, it is ideal for most applications.
Environmental Noise
This comes complete with data logging, providing a detailed graph of the sound level over time. It also measures the required environmental noise parameters, such as periodic LAeq, LAmax and Ln statistical values.
Automatic timers can be used to make repeating measurements. Many regulations require repeating measurements of 5 minute, 15 minute or hourly duration.
Occupational and Other Noise
As this is a Class 1 Integrating Sound Level Meter, it exceeds the requirements for noise at work assessments. If you need to measure both noise outside and inside the factory then this meter is ideal.
For pure noise at work measurements, the lower cost CEL620B2 Integrating Sound Level Meter is more cost effective.
Calibrate
Many regulations state that the meter's function should be checked before starting measurement.
Put the Calibrator on the mic. and select the Calibrate option to do this automatically.
Measure
Press the Run/Stop key to carry out a manual measurement. Otherwise, use the timers to make 15 minute measurements for example.
All parameters are stored in the meter for viewing or download - no need to choose which measurements you need, they are all there.
Results
Back in the office, the measurements can be viewed on the meter's display or they can be downloaded to a computer.
The hire kit includes the Insight software for downloading and reporting. If you prefer to create your own reports then the noise measurements can be exported to Excel or similar software for maximum flexibility.
CEL633C1 Sound Level Meter
Standards
IEC61672 Class 1, ANSI S1.43 Type 1
IEC60651 & IEC60804 Type 1
Meas. Ranges
20 to 140 dB (single range), 143 dB Peak
Time Weightings
Fast, Slow, Impulse
Freq. Weightings
A, C and Z (simultaneous)
Sound Level
LXY, LXYMax, LXYMin
Integrated
LXeq, Lavg, LAE
Peak
LXPeak
Octave
16Hz to 16kHz
1/3 Octave
12.5Hz to 20kHz
Statistical
5 x Ln values

X is frequency weighting A, C or Z and Y is time weighting Fast, Slow or Impulse
Dimensions
72 x 229 x 31mm, 295g
Tripod Mount
1/4" socket
Battery Power
3 x AA Alkaline for > 15 hours
External Power
9 to 14V DC at 250mA via 2.1mm connector
Environment
RH 5 to 90% non condensing
Temperature: 0 to 40°C
Output to PC
USB
Memory
> 1 year when set to 1 second logging
Timers
Duration 1s to 24h. Six timers.
Audio Record
8kHz sampling for 60 hours recording