Hire of Basic Noise Meter Hire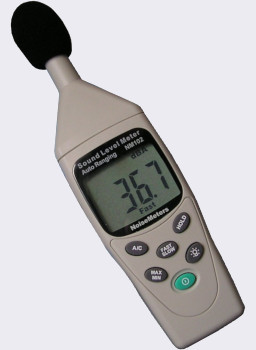 This sound level meter is available for hire for periods of one week or longer. As a basic (not integrating and not calibrated) meter, it is intended for basic noise measurement where the regulations don't demand anything more.
Sound level spot-checks
Offices, hospital wards and similar low-noise environments
Meter features:
Large, backlit display
30 to 130 dB(A) with auto ranging
Multiple frequency and time weightings
Maximum and minimum sound level
Hire Kit Includes:
NM102 Sound Level Meter
Windshield
Battery
Availability and Booking
Start Date

Hire Period

Hire Price Includes
Delivery to your premises
Collection

At the end of the hire period we will contact you first and then arrange for a courier to come and collect the equipment.

when finished
Shipping outside the hire period

If you book the equipment for seven days then you have it on site for seven full days.

If your hire starts on a Monday then we will ship the equipment to arrive on the Friday before the weekend.

Technical support and advice
Transit insurance

We cover any loss or damage to the hire equipment while we ship it to your premises and the same on return if we arrange the collection.
Info
Applications
Using It
Specifications
Overview
The NM102 is a low cost noise meter for basic surveys and sound level checks. It has many features, such as Fast and Slow time response, A and C frequency weighting and Max/Min measurements.
The backlight makes it ideal for use in low-light environments.
Limitations of Use
While the NM102 is an accurate and full-featured sound level meter, it is not provided with a traceable calibration certificate and so is not suitable for measurements to be used for legal purposes.
Please see the Applications tab for more information.
Basic Noise Measurements
The NM102 covers a wide range of measurements, auto-ranging from 30 to 130 dB(A).
Offices, hospitals, libraries
Low light environments such as pubs and clubs
Quick spot checks of sound levels
Setting up noise warning signs
Regulations
If there are noise regulations to follow then first check what grade of sound level meter you need. For sound level meters that meet the noise at work and environmental noise demands please visit one of the pages below:
Using the NM102 Sound Level Meter
Switch on
Read the sound level
In poor light use the backlight
Sound Level Display
The keys have the following functions:
A/C A or C frequency weighting
Fast/Slow Select time response
Hold Holds current sound level
Max/Min Maximum or minimum sound level
| | |
| --- | --- |
| | |
| Display | 4 digit LCD with back light |
| Resolution/Accuracy | 0.1dB / ±1.5 dB (ref 94 dB @ 1 kHz) |
| Frequency Range | 31.5 Hz to 8 kHz |
| Level Range | 30 to 130 dB(A), 35 to 130 dB(C) |
| Frequency Weighting | A and C |
| Time Weighting | Fast (125 ms) and Slow (1s) |
| Dynamic Range | 50 dB |
| Battery | One 9V battery |
| Battery Life | Approx. 50 hours |
| Temp & Humidity | 5°C to 40°C below 80% RH |
| Dimensions | 200 x 55 x 38 mm, 170g (including battery) |
| | |