January 2010 Newsletter
Environmental Noise Monitoring Systems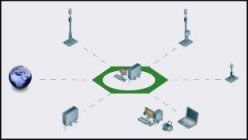 Noise Monitoring System
We have added two new sections to our web site covering large area noise monitoring systems and long-term noise monitors.
You can find out more about these topics by following the links below
A noise monitoring system consists of fixed and portable noise monitors connected to a central computer for storage and reporting.
Details of some of the individual parts that make up a system can be found below.
Noise Pole
The Noise Pole is an environmental noise monitoring terminal that has been designed for long term use. It is particularly suited for installation in residential areas where appearance and resistance to vandalism are essential.
Measurement range 20-140 dB(A)
Airport noise monitoring systems
Large industrial sites
Community noise monitoring
---
4-20mA Current Loop
The MK427 Outdoor Microphone has a 4-20mA Loop output, making it ideal for integration into an existing process control system, such as SCADA.
Industrial sites, power stations
4-20mA Current Loop Output
Actuator for automatic calibration checks
---
Portable Noise Monitor
The portable noise monitor can be used alone or as part of a larger noise monitoring system.
Construction site boundary monitoring
Industrial sites - monitoring close to the complainant
Airport noise
Road and rail noise