September 2008 - Noise Measurement at the Notting Hill Carnival
oiseMeters Limited provided hire equipment for the noise assessment at the Notting Hill Carnival.
Soundguard Acoustics Ltd were contracted to undertake the first Control of Noise at Work risk assessment for this year's London Notting Hill Carnival and selected NoiseMeters Ltd to provide the noise monitoring instruments.
London Notting Hill Carnival has existed since 1965 and now in its 44th year has grown to become the largest street festival in Europe. Carnival provides an annual reminder that music, good times and dancing will bring over 1.5 million people together in a defining moment of multiculturism. The traditional Caribbean roots of the Trinidadian and Barbadian communities is voiced by the music of Steelpan and drums which now sit alongside the Jamaican sound systems which arrived in the seventies. Stacks of battered speakers and amplifiers have become one of the quintessential images of Notting Hill Carnival, the noise levels of which is possibly only outdone by the parade route and the thousands of masquerades.
NoiseMeters Ltd provided Soundguard Acoustics Ltd with 30 Cirrus CR:110A Dosebadges, 2 RC:110A Dosebadge readers, and 3 Cirrus Type 1 integrating Sound Level Meters to support the Cirrus equipment that Soundguard already uses. Rob Shaddick is the Director of Soundguard Acoustics Ltd and said that: 'Soundguard already uses Cirrus equipment and we were confident in hiring further Cirrus equipment to fulfil this contract, NoiseMeters could provide us with the quantity of equipment we required and were very supportive in achieving this. The correspondence was professional, the equipment arrived on time and the whole service represented excellent value for money. We would certainly recommend and use NoiseMeters Ltd for future contracts'.
Working with the London Notting Hill Carnival Ltd, the London Metropolitan Police and the Royal Borough of Kensington and Chelsea, Soundguard Acoustics Ltd Consultants formulated a plan that would reveal the likely noise dose of carnival marshals, judges, security and traders as well as the level of noise at policing locations, first aid points, and entry points to the carnival route. In addition the sound level outputs of the passing floats, background levels, noise mapping and a complete assessment of all 40 static sound systems was undertaken.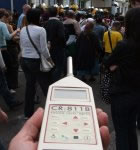 After the contract Rob Shaddick reported: 'The Cirrus Dosebadges and Cirrus Sound Level Meters that NoiseMeters Ltd has provided us have been terrific, my consultants were happy and confident in using the equipment and the way in which the equipment was arranged and delivered in a short time scale was excellent. NoiseMeters Ltd has been fundamental in helping us to achieve this contract. Our approach from the outset has been to maintain the vibrant and noisy tradition of carnival, whilst reducing the noise exposure risk of those working within Carnival, a challenge in itself but the Cirrus equipment provided by NoiseMeters Ltd has helped us to achieve this and will be fundamental in the planning of next years London Notting Hill Carnival.'
For more information on hiring sound level meters and noise dosemeters please visit our Hire page.
This article was written by Rob Shaddick of Soundguard Acoustics Ltd.