March 2009 - SoundAlert High Noise Level Alarm
The SoundAlert gives a continuous reading of the current noise level and clearly indicates when the level gets too high - when it is above a limit that the user can set.
An optional noise warning sign connects to the SoundAlert and flashes brightly to give a warning that is hard to miss.
Displays Sound Level in dB
Clearly indicates high noise levels
Wall, desk or tripod mount
Trigger level from 30 to 130 dB
Mains or battery power (mains power included)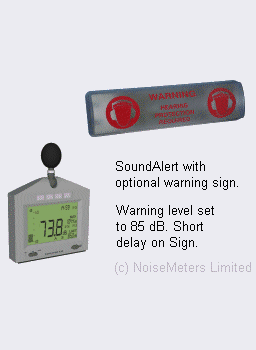 The SoundAlert can inform staff in a factory that it is time to start wearing hearing protection. It is also ideal for use in schools, hospitals, offices and call centres. Finally, it can be used in pubs and clubs to inform the DJ or live band that the levels are too high.
More Information and Prices
For more information please visit the SoundAlert web page.