CEL620A Integrating Sound Level Meter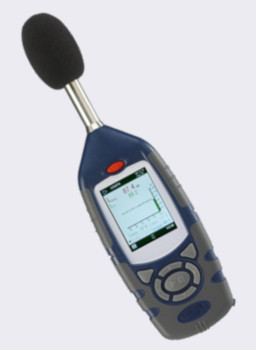 CEL620A Sound Level Meter
The basic model (order code CEL620A2) is a Class 2 Integrating Sound Level Meter and so meets the requirements of the noise at work regulations. The main options are:
Class 1 or Class 2? - Most regulations say Class 2 is adequate.
Accessories? - Calibrator is often essential, carrying case is useful.
Insight Software? - Makes download and analysis more convenient
Sound Level Calibrator
| | | |
| --- | --- | --- |
| Calibrator | | The most important of the accessories is the Calibrator. The regulations state that you should use one to check the function of the meter before making any measurements. |
Class 1 or Class 2 Sound Level Meter?
A Class 1 sound level meter is a little more accurate than a Class 2 model. It is also more expensive. If you are using the meter exclusively for noise at work assessments then the EU regulations and HSE guidelines are quite clear: Class 2 is adequate. For this reason we recommend the Class 2 model.
However, if you need to make other noise measurements, such as noise emitting from your factory into the local environment, then it might be wise to go for a Class 1 meter. See the Applications page for more notes on environmental noise measurement.
---
Software
The CEL620A is a data logging meter that does not require any additional software - when plugged into a computer it acts like a memory card. You can manually copy the data to your computer or load it into a spreadsheet program or you can make use of our web based NoiseMeters Applications. The Insight software option makes this process more convenient, links the measurements to person, place or process, and presents the results.
---
Order Codes
| | | | |
| --- | --- | --- | --- |
| Sound Level Meter | CEL620A1 - Class 1 Integrating Sound Level Meter | £1591.00 | |
| | CEL620A2 - Class 2 Integrating Sound Level Meter | £1100.00 | |
| | | | |
| Calibrator | The Calibrator is available as Type 1 or Type 2, usually to match the class of the meter: | | |
| | CEL120/1 Type 1 Sound Level Calibrator | £525.00 | |
| | CEL120/2 Type 2 Sound Level Calibrator | £257.00 | |
| | | | |
| Software | NMAPPS NoiseMeters Applications | £65.00 | |
| | ISC020 Insight Software | £295.00 | |
| | | | |
| Accessories | CEL6840 Carrying Case for CEL620 Sound Level Meter, Calibrator and accessories | £75.00 | |
| | PELI-SLM Peli Case for CEL Sound Level Meter, Calibrator and accessories. | £185.00 | |
| | | | |