Noise Nuisance Recorder - Noisy Neighbours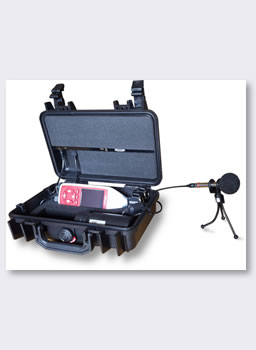 Neighbour Noise Recorder
Applications
The noise nuisance recorder is designed for monitoring and recording noise from neighbours. It is intended to be installed indoors, usually in the room where the noise is most problematic, and left running for a few days to give a good idea of the background noise levels and so that the complainant can record the actual audio as evidence.
As the Noise Nuisance Recorder includes a sound level meter (either a Class 1 or Class 2 data logging, integrating meter), it can be used for many other noise monitoring applications, as listed below.
Noisy Neighbours
The intended application for the Noise Nuisance Recorder is for monitoring excessive noise from neighbours.
Typical noise sources would include:
Music too loud
Barking dogs or other animals
Shouting and verbal abuse
Banging on floors, walls, ceilings
These devices are often used by local authorities, environmental health officers and housing associations to assess the severity of the problem before taking legal action. They are also used by householders and tenants who need to prove to the authorities that they have a real noise problem.
Environmental and Community Noise
The Noise Nuisance Recorder with includes a hand held Sound Level Meter. This is a Class 1 or Class 2 data logging, integrating meter that includes the standard environmental noise measurements (L10, L90, Leq, etc.) and the ability to make automatic repeating noise measurements. This makes the meter ideal for most environmental noise surveys. Should you need Octave or 1/3 Octave Band Filters then these can bee added to the meter at the time of purchase or at a later date.
The NoiseTools software that is included connects to the meter and downloads all measurements.
Environmental
Sound Level Meter
Occupational - Noise at Work Assessments
The EU regulations and UK HSE guidelines state that noise at work measurements should be made using at least a calibrated Class 2 Integrating Sound Level Meter and that you should have a Calibrator to check the meter's function. The meters that are included in the NNR kits exceed these requirements and include all the measurements that you need to meet these regulations and guidelines.
The NoiseTools software includes occupational noise measurement reports.