Noise Nuisance Recorder - Noisy Neighbours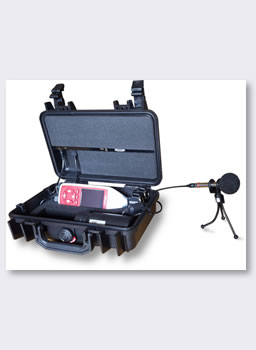 Neighbour Noise Recorder
Options
The most popular Noise Nuisance Recorder is the NNR632A1, which includes the following items:
CEL632A1 Class 1 Data Logging, Integrating Sound Level Meter
CEL120/1 Class 1 Sound Level Calibrator
Heavy duty Peli Case with Padlock
Shoulder bag to transport all items including Peli case
5m Microphone Extension Cable
Table-top Tripod with Preamp Mount
Power Adapter
Noise Nuisance Reporter software
Standard Kits
NNR632A2
Noise Nuisance Recorder with CEL632A2 Class 2 Sound Level Meter
NNR632A1
Noise Nuisance Recorder with CEL633A1 Class 1 Sound Level Meter
1/3 Octave Band Filters and Environmental Parameters
The meter can also be fitted with Octave or 1/3 Octave Band Filters, should you need to carry out any frequency analysis. This is an option that is not usually needed for neighbour noise purposes, but can be useful for other environmental or even occupational noise assessments.
If the meter is to be used for more detailed environmental noise surveys then you may need parameters such as the L90 and L10. For this type of measurement you should opt for the CEL633 series sound level meter. These kits include the environmental measurements with options for 1/3 octave band filters too.
NNR633A1
Noise Nuisance Recorder with Environmental Noise Parameters
NNR633C1
Noise Nuisance Recorder with Environmental Parameters and 1/3 Octave Bands
Not sure? If you don't know whether you will need 1/3 octaves or environmental parameters in the future then you can get the lower spec meter and upgrade at a later date.
Lower Cost Option - Class 2
Most of our customers monitoring neighbour noise request a Class 1 system, as this is the more accurate version and certainly the best if you are using it for legal purposes.
However, if you do not need a Class 1 then the NNR632A2 should be ideal. It includes a Class 2 Integrating Sound Level Meter and Class 2 Calibrator. This reduces the costs dramatically if you do not need the higher precision.